We had the opportunity to review Math Mini-Courses Advanced Fractions and Numbers Types and Conversions by A+ Interactive Math.

My children love math, but that does not mean they always understand well every concept we cover. Some topics make more sense than others and some require we spend a little more time before moving on to another concept. Sometimes, you just a need a little more practice, sometimes a review or a sometimes a math solution that ties everything together and closes a learning gap. The programs from A+ Interactive Math can help your student in all of those areas.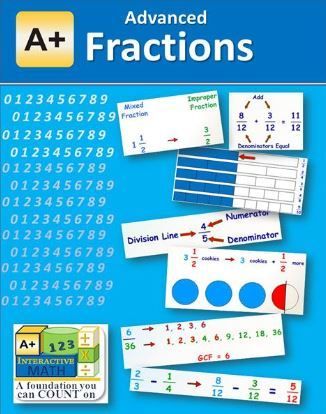 We have used programs from A+ Interactive in the past and I like the easy approach for students and the confidence it can give parents who wonder if their children are at the correct academic grade level in math.
Along with individual math programs for different grade levels, A+ Interactive offers online Mini Courses for students in first through eighth grades. We had access to Advanced Fractions, which is geared towards fourth through seventh graders, and Numbers Types and Conversions, which is geared towards third through sixth graders. You may see all of the offered Mini Course. The Advanced Fractions is where my seventh grader needed the most help.
River is currently doing typical seventh grade math and also learning pre-algebra. You know how children also ask if what they are doing in school (especially math) will have any value for them as an adult? Well, yes my son, you will need to have a very good understanding of fractions as an adult. Although they may not always be complex, definitely a good understanding is necessary.
There are 26 sections in the Advanced Fractions Mini Course and 35 in the Numbers Types and Conversions Mini Course. Students have access to video lessons (online or as a .PDF to print if you prefer they not spend too much time online) and printable worksheets and tests.
I am cautious about the amount of time my children spend on their school subjects. The time he used the math course online was brief and thorough for each lesson, which was not usually longer than 10 minutes. River liked being able to work through the material on his own. I did too. My daughter will use the Numbers Types and Conversions Mini Course, which appears to be as thorough in presentation as the Fractions Mini Course. I had a chance to watch some of the videos and rad through the .PDF lessons. Having the ability to print the lessons is especially good, because we do not always have Internet access.
Two big plus for parents using this curriculum with their children are that they do not have to teach the lessons and there is no grading required. The Mini Courses are created to do all of that for you. This may be good, because it gives your child a different approach and a new teacher of a math concept that has been challenging to the student. I do agree your child may never have to convert decimals into fractions if they become, let's say a writer ;-), but they will benefit from the ability to think in that manner. Another thing I like is the way the backend of A+ Interactive Math is designed. After you figure out (they do tell you) your working area launches in a new window, the program is extremely user friendly. When it comes to using an online program on difficult subjects, something as simple as navigation confusion can really ruin a learning experience.
I will also say, whether using a Mini Course or using another product from A+ Interactive, your child will improve in his math skills in some manner.
You may purchase both the Advanced Fractions and the Number Types and Conversions each for $19.99 per year.
You can read more reviews of this item by fellow crew members.
Social Media
APlusTutorSoft on Facebook
APlusTutorSoft on Twitter
APlusTutorSoft on Pinterest
---