We had the opportunity to review the NIrV, Faith Builders Bible, Hardcover by Zonderkidz, which is geared towards elementary age students. The Faith Builders Bible is $24.99 and is a glossy, hard covered book with 1152 pages.

There is nothing that gets my children going more than building. When they were younger, any type of block would do. As they have gotten older, their preferred pieces are usually LEGOs. Zonderkidz connected two great ideas, the Bible and a child's love of building, to introduce the Word to children. Through the Faith Builders Bible that is exactly what they do – "building with books of the Bible."
When the opportunity to review the book came up, I knew it was one all three of my children would enjoy. Faith Builders does not reference the popular building brick 😉 as the brick of choice, but I know the first thing that caught my eyes were the familiar looking bricks on its cover. It made me smile, because I know that was a great way to share the Bible with children. My children have managed to insert their brick of choice into many subjects and come out learning something from the combination.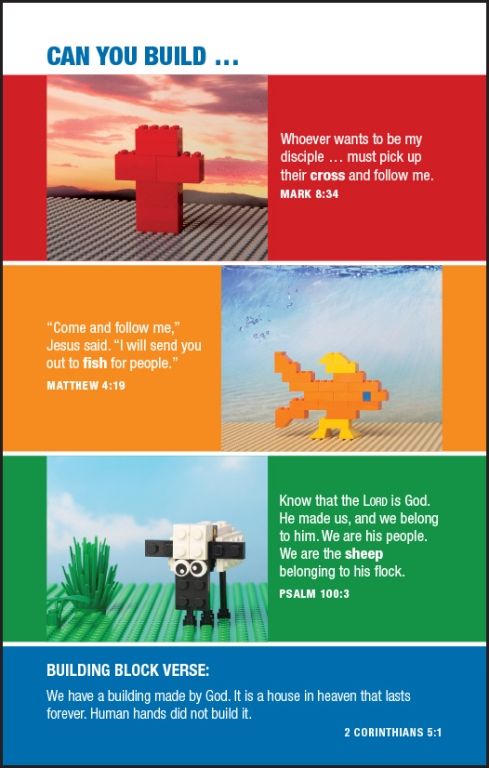 Canyon used the Faith Builders Bible when we sat for our devotion time. He has other Bibles, but this one was more fun to use. He enjoyed sharing in the Word, but I will admit he also enjoyed being able to build something with his bricks that represented what we were reading. Our devotion time did not always finish with brick building, but when it did, there were a lot of creative ideas that came from all three of my children. The creations were not limited to just what we were reading, but also other passages they have read.
Three crosses.
Luke 23:26-43 – The Crucifixion of Jesus.
Mark 2:4 – The Story of the man who was lifted through the roof, so he could see Jesus and be healed.
I know the Bible should be able to be read and enjoyed without building bricks, but sometimes, for younger children (and some adults), using their hands to interpret what they have learned reinforces information. Also, being able to use something familiar (preferred building brick) to bring relationship is an excellent way to make a connection.
A few things I wish they had done with the book is also published it in an NIV version. That is the version we use and the NIrV is even more elementary. I would even use a KJV of the book. I also wish there were more pictures for building ideas. Although my children are creative on their own, they also thrive on looking at pictures of brick creations. The font was just too small, which may have been more of an issue for me. My youngest an earlier learner and trying to decipher the very letters in a word he was trying to read was challenging. Since they use the NIrV version, maybe consider using a larger font for younger children.
Overall, the Faith Builders Bible is a great way to share the Bible with children.
You can read more reviews of this item by fellow crew members.
Social Media
Zonderkidz Facebook
Zonderkidz on Twitter
---