We had the opportunity to review the online program by K5 Learning.
It is at the end of the school year and there is one question many homeschoolers ask themselves. Is my child at grade level in his studies? I don't test my children, but it is great to know where they are in their main subjects, reading and math. If there is a need for them to complete extra work to meet those standards that is what we will do. K5 Learning is an online program that can help you with that task.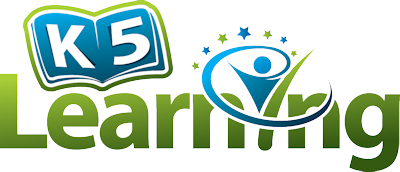 K5 Learning is an online program that helps to build math, reading and study skills for children in kindergarten through the fifth grade. It was created to supplement learning children are already doing in a school (or homeschool) environment. There are three programs that strengthen children in the following areas:
K5 Reading
Click here to see a video of K5 Reading in action.
• Phonemic awareness
• Phonics
• Sight words
• Reading Comprehension
• Vocabulary
K5 Math
Click here to see a video of K5 Math in action.
• Numbers and Operations
• Measurement
• Geometry
• Algebra
• Data Analysis
K5 Spelling
Click here to see a video of K5 Spelling in action.
K5 Learning is geared towards children in kindergarten through the fifth grade. That makes sense. Wow! Canyon is my only child in that range.
I had him take the placement tests for math and reading, which did not take very long. Once he was finished, the results were immediately e-mailed to me. The results from the reading and math assessments were very helpful. He placed about where I thought he would for each area, except for reading comprehension. Although he is still learning how to read, his comprehension is high. Despite that, I did not make adjustments for his score. That was hard, but I found once he started working through the lessons, everything balanced out. If your child takes the assessment and you think there may be an error in the results, K5 will work with you on making an adjustment for where your child starts the program. The assessment helped to personalize his experience while using K5. The assessment is also available through the FREE 14-day trial.
I had Canyon work through the reading and math sections that, which he liked. I think the animation was more of a selling point for him rather than the function of the program and the work he was doing. Math is a strong skill for him, but he is still working through reading. The math lessons were good practice for him. The presentation of the lessons is fun and engaging. Since we used the program as a supplement, it was a nice break from the offline math work he normally does.
The K5 Reading and K5 Spelling sections are where I really wanted him to work. I like how the spelling section is set up and the lessons are presented. Students are given examples (audio and a definition – Kind of like the National Spelling Bee) to help them spell the words. With the reading lessons, I like there is an option for the student to have the reading section read to them. Of course, you want the student to read the lesson himself, but sometimes help is needed. There are worksheets to go along with the lessons, if you prefer to have your child do some offline work.
The program gives children more practice in areas of need, but also helps reinforce concepts on which they score well. K5 has been extremely useful and convenient over the past few weeks as we have had less structured school time. I was able to give him assignments to complete which helped him review material we have covered. The lessons are short enough for him to learn and not have to spend hours in front of the computer, unless he want to.
I like the racial diversity of the K5 Kids (characters). I think this is something good for children to see; racial diversity as well as all shapes and sizes.
Using K5 would work well like a reward for your child after he finishes a subject or topic that is covered by the program. There are many areas that your child can cover and/or review. I also like the fact that the program works within itself (no outside links) which made it so I didn't have to hang over his shoulder while he worked.
Availability
K5 can be purchased as a monthly subscription for $14.95 or $119 for one year for one child.
Social Media Links:
Facebook:  https://www.facebook.com/k5learning Tag: @k5learning   
Twitter:  https://twitter.com/K5Learning Tag: @K5Learning   
Pinterest:  https://www.pinterest.com/k5learning/ Tag: @k5learning   
Google+:  https://plus.google.com/+K5learning
Hashtags: #hsreviews, #k5learning and any subject names