We had the opportunity to review MyFreezEasy.com Freezer Meal Plan Membership by MyFreezEasy.
Over the past very many months this year, I have failed to create nutritious meals on a regular basis for my family. I can even go as far to say that I have not done very much cooking at all for my family. Fortunately, no one has starved. I have a love hate relationship with cooking. I love to eat the foods I cook, but unless I am "in the mood to cook", it is just not going to happen. What I found best to do is cook as much as I can while I am "in the mood". The only problem with that is we can only eat so much food at one meal, so what happens to the rest?
Well, MyFreezEasy Freezer Cooking Meal Plans has an answer for people like me. Not only does it help me figure out what happens to the rest of the food, it also helps me maximize that "in the mood" moment when I am cooking. As a result, I save money and maximize my time and results with 10 meals ready to freeze and have on hand to use later.
Erin Chase, a busy mother herself, understands mommies like me who are busy, but still need to put food on the table for their family. As my children have gotten older, our lives have gotten busier. For me, that means more time outside of the home and less time in the kitchen. With our new way of life, one thing has not changed and that it with my children's' appetites. Having an answer for the infamous question, "What's for dinner?" has always been a daily challenge for me and it continues to be one. When I learned of Erin's freezer cooking meal plan that teaches you how to create "10 meals in less than one hour", I knew I needed to try the plan.

I received a MyFreezEasy.com Freezer Meal Plan Membership, which is the Premium Annual Membership. With this plan, members receive access to eight menu plans: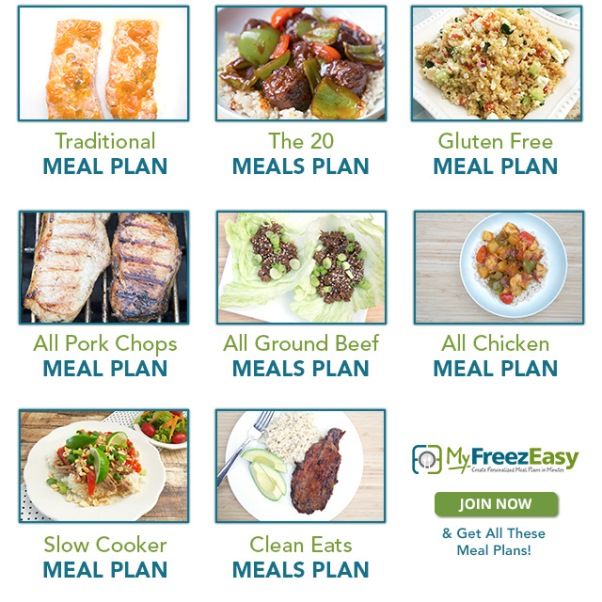 All Chicken Meals Plan
All Ground Beef Meals Plan
All Pork Chops Meals Plan
20 Meals Plan
Clean Eats Meal Plan
Gluten-Free Meal Plan
Slow Cooker Meal Plan
Traditional Meal Plan
The freezer cooking meal plans are easy to complete just by following these four steps:
1) Prep – You prep the meals you choose. This could be either gathering or prepping (chopping, slicing, etc.) your ingredients to lightly cooking them before ready.
2) Freeze – Place your ingredients in a plastic gallon or quart freezer bag for storing. Most of the meals are able to be frozen, at least, six months in a refrigerator freezer and some for as long as one year in a deep freezer.
3) Cook – defrost your ingredients when you are ready to serve the meal.
4) Serve – Present your nutritious freezer meal to your family.
I know the concept of freezing and then defrosting a meal is not new, but learning how to make the process work for me was something I needed to know. You see, I am not a fan of freezing food. I like to eat food that is hot off of the stove or out of the oven, the first time around. The idea of saving money, being more organized when it comes to menu planning and having a backup plan when it comes to dinner and other meals was enough to make me change my thinking on freezer meals.
Since I did not really know where to start, I watched Erin's freezer cooking videos. In the Member HQ section, there are a number of videos she has created. Erin covers prepping tips, freezing and defrosting tips, what does and does not freeze well and more. Some of the things I learned were: freezing flat helps with storage; items like mayonnaise-based, sliced or block cheese and raw potatoes do not freeze well. Something I already knew was that fruits and any green leafy items also do not freeze well unless you are using them for smoothies. I already prep and freeze my smoothie ingredients in the same manner as Erin suggests for meals.
Meat is the main ingredient in most of the recipes, so if your family enjoys beef, chicken or pork, there are going to be a lot of meal options available to you each month. Although we are mostly a plant-based family, I thought I would be able to convert many of the meals to vegetarian. That left me with a lot of sides. I decided to look at the chicken recipes figuring I could replace a fish with chicken. Baked Island Chicken, one of the recipes included in the October menu plans for chicken, is one I tried. I used cod and the single meal option (as opposed to the 2 Meals), which worked fine.
Each monthly meal plan includes five recipes, shopping lists by recipe or category you may find in a grocery store, assembly instructions for prep and meal and detailed instructions for preparing your freezer meal. The backend of MyFreezEasy.com Freezer Meal Plan Membership is well laid out. A neat feature that was recently introduced is the MyFreezEasy desktop app, which allows members to customize their meal plans. You are able to pull recipes from the eight different plans creating 10 meals that your family loves.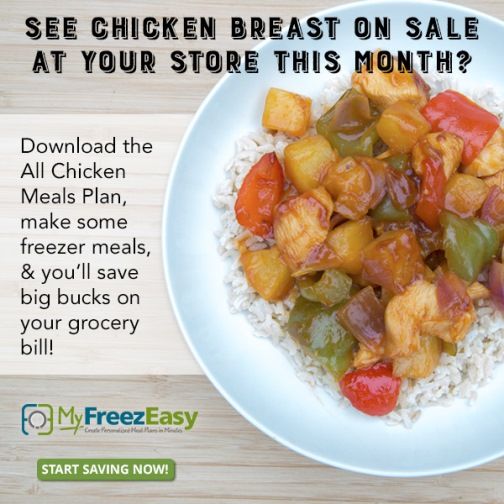 Other tips just like this one in the image above are ones that will definitely save you money. Using your freezer meal prep skills will enable you to save money by purchasing a sale meat in bulk and making many freezer recipes with that meat.
The concept of MyFreezEasy is one that has come at a time where I need to adapt to the changes in our lives. Although I do not have as much time now does not mean I cannot serve my family good meals. If you are short on time, but long on a hungry family, MyFreezEasy is a good answer to that problem.
The MyFreezEasy.com Freezer Meal Plan Membership is $10 per month.
Social Media Links:
Facebook:  http://www.facebook.com/freezeasy
Instagram:  http://www.instagram.com/freezeasy
Pinterest:  http://www.pinterest.com/5dollardinners/freezeasy