We had the opportunity to review the physical product of the
Thin Stix Creativity Pack from The Pencil Grip, Inc.

As my children have gotten older and ranging in age (15 to a new 11), there are very few things that appeal to all three of them. One of them are LEGOs and the other are Kwik Stix, which have become just as popular in our home as the former. If you have never heard of Kwik Stix, the name may sound a bit funny to you. Once you use them and understand how they work, Kwik Stix will become a favorite phrase for you to say, especially when your children say, "I'm bored."
This is what having Kwik Stix in our home does to my children. We were introduced to Kwik Stix about two years ago. By that time, we were passed the messy paint, arts and crafts stage. In fact, paints, markers, anything that could make a mess (i.e. arts and crafts supplies) were not always top on my list. I love arts and crafts, but have always hated the mess the experience leaves behind. Kwik Stix has changed everything.
We have a cabinet full of arts and crafts items, but nothing like Kwik Stix (except the other Kwik Stix I have bought 😉 ). They are just that great! These are the stats on Thin Stix Creativity Pack:
Kwik Stix are suitable for children, ages three and older, to use. There are 24 bright and vibrant colors of paint sticks in the pack that will paint on paper, poster board, wood and more. You have all ranges of colors with the basics, neon and metallic Kwik Stix.
What makes the sticks so cool is the paint dries in 90 seconds (bye, bye mess), requires no water for rinsing brushes, cups for divvying paint colors or smocks for keeping your child's clothes clean. The paints are nontoxic and nut, egg and gluten-free for those with allergies. The best part is they are washable.
This is the creation Canyon made. I gave him his own ream of paper, so he can grab paper and Kwik Stix to paint any time he feels like creating.
This is what Lily painted. It has been pretty cool to see my teenagers pull out the Kwik Stix and start creating. The thinner sticks have gone over very well with my oldest. River even likes the thinner stix.
The pictures my children have made will maintain their fresh appearance (like they just painted them, but not wet) and the paint does not crack.
I love painting, but hate cleaning up the brushes and other mess. Kwik Stix makes it fun. It's like painting made easy. ~ Lily
I now keep Kwik Stix around the house like I use to keep crayons. They are enjoyed by children all the way to adults (yes, even me). The creativity pack of colors promotes fun and really allows your child's artistic flair to be revealed.
The holiday, gift giving season is just around the corner. If you are looking for something to fill a regular present or stocking stuffer, I am telling you, gifting Kwik Stix will gain you many brownie points. Your children can even use the Kwik Stix to decorate gift boxes for their own gifts, so you may not want to wait until Christmas to buy them.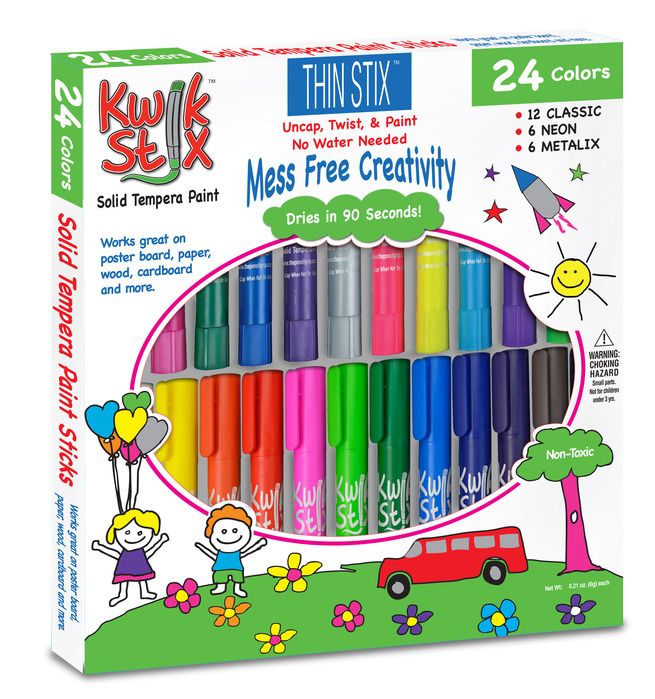 Availabilty
The Thin Stix Creativity Pack is available for $19.99.
Social Media Links
Facebook: https://www.facebook.com/thepencilgrip/
Twitter: https://twitter.com/thepencilgrip @thepencilgrip
Pinterest: https://www.pinterest.com/thepencilgrip/
Hashtags: #hsreviews #KwikStix, #temperapaint and #kidsartsupplies